JMG's refined structural and architectural garden elements seamlessly complement existing site conditions. equally important is the level of plantsmanship exhibited in all projects. plants are carefully selected and placed to maximize their effect both as single specimens as well as in larger plant compositions. creating beautiful solutions to the complexity of urban landscape design. we offer a full range of services for residential and corporate clients including consultation, garden design, installation and maintenance.
the value of green space in the city is undeniable. working within the confines of numerous restrictive weight allowances, climate variations and legal issues, jmg designs transform problematic spaces into unique and stunning gardens. our custom designs include rooftops and terrace gardens, outdoor kitchens and courtyards. a jmg garden will protect your investment with quality craftsmanship and the ongoing beauty of a four season landscape.
hardscaping elements are a major component of country gardens and includes natural stone patios, walkways, outdoor kitchens, decking, water features and fireplaces. in the landscape plant material is carefully selected and placed to maximize effect both as single specimens and in larger plant compositions. this layering of design expertise creates unique landscapes and beautiful garden spaces.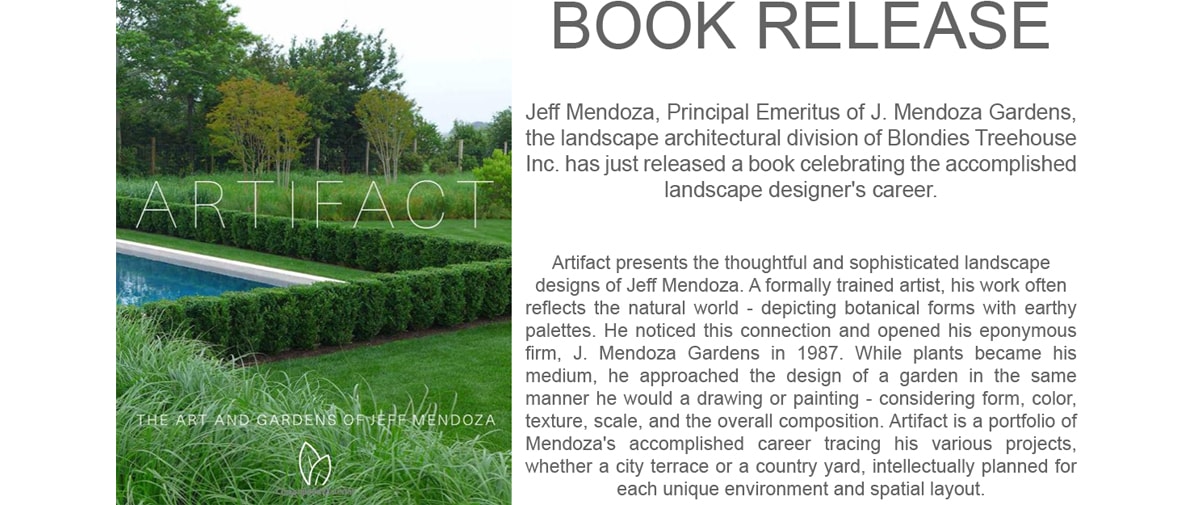 Jeff mendoza has lectured widely on garden design. the firm's projects have been published internationally in numerous books and magazines including house and garden, horticulture and the journal of the royal horticultural society.
"Designing Roof & Terrace Gardens" Greenwich Village Society Of Historic Preservation, New York, NY. February 18, 2009
"Landscape Problems Large & Small", Metro Hort Group, New York, NY. January 7, 2008
"Garden Design Large & Small", The Scott Arboretum Of Swarthmore College, Swarthmore, PA. November 9, 2004
"Rooftop And Terrace Garden Design", The Horticultural Society Of New York, NY, March 8, 2004
"A Critical Eye In The Garden: Design Solutions In Country & City Gardens" Association Of Professional Landscape Designers Conference, New York, Ny. July 18, 2003. "Urban Rooftop Gardening" The Pennsylvania Horticulture Society, Philadelphia, PA. April 29, 2003
"Clipped Shapes In The Garden" Metro Hort Group Members Showcase, New York, NY. February 25, 2003
"Manhattan Rooftop Gardening: Tough & Tender Perennials" The Pennsylvania Horticulture Society, Swarthmore College, Swarthmore, PA. October 18, 2002
"A Life In The Garden" Commencement Speaker, New York Botanical Garden, Scholl Of Horticulture, Bronx, NY, March 1, 2002
"Rooftop And Terrace Design" The Horticulture Society Of New York, New York, NY, December 5, 2001
"New York City Gardens", Veronika Hofer, Betsy Pinnover Schiff, Hirner Verlag, 2010
"In Search Of Paradise, Great Gardens Of The World", Penelope Hobhouse, Francis Lincoln Limited, 2006
"Garden In Perspective", Jerry Harpur, Octopus Publishing Group, 2005. Small Space Gardens", David Stevens, Harper Collins, 2003
"Roof Gardens, Balconies & Terraces", Stevens & Harpur, Rizzoli, 2002-2003
"Constructed Ground – The Millennium Garden Design Competition", Charles Waldheim, University Of Illinois Press, 2001
"The World Of Garden Design", Susan Dooley, Chronicle Books, 2000
"Conran Octopus Contemporary Garden Design", David Stevens, "case Study: Roof Terrace", Conran Octopus Limited, 2000
"Hot Plants For Cool Climates", Susan A. Roth & Dennis Schrader, Houghton Miffen, Co., 2000
"City View: Gardens, Postcards And History", New York Times, P. Mb 3. October 31st, 2010
"Grass In The City", Paul Malo, Exterior Design, Pp. 111-112, January 2008
"The Poetic Landscape", Gerit Quealy, Array Magazine, Pp. 18-20, May 2007
"Master Class", Melissa Ozawa, House & Garden, Pp. 56-61, January 2006
"Living Outdoors", The New York Times, Home Magazine Supplement, Pp. 26-27, July 2004
"Ground Rules", Deborah Needleman, House & Garden, P. 130, February 2003
"A Formal Invite", Nigel Colbum, The Garden: Journal Of The Royal Horticultural Society. P. 942. December 202
"Inspired Ideas For Outdoor Retreats", Deborah Needleman, House & Garden. Pp. 95, 100-1. March 2002
"Built To Suit", Stephen Anderton, Horticulture Magazine, Pp. 62, 64, May 2001
"The Oasis Upstairs", Marc Krystal, Dwell Magazine, Pp. 34-36, June 2001 "portfolio Of Contemporary Gardens", Stephen Woodhams, Quadrille Publishing, 1999
Rooftop Gardens
Landscape Construction
Roofdeck Install
Courtyard Design
Plant Procurement
Landscape Architecture
Design + Build
Permitting + Expediting
Installation
Pruning And Arborist Services
Landscape Maintenance Program
Seasonal Color
Irrigation Services
Lighting Design
Seasonal Container Programs