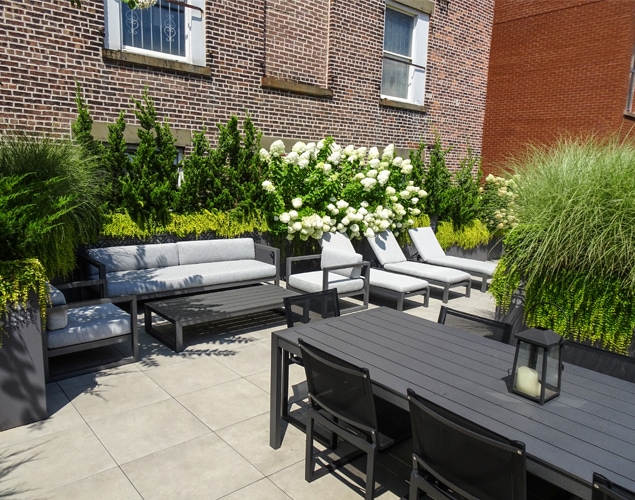 Tribeca's newest rooftop garden is a warm, private sixth floor space atop a rental building in Chelsea. With lush plantings, dedicated spaces for seating, gathering and lounging, and carefully concealed mechanics, this space has something for everyone.
This smartly designed rooftop garden breaks up one contiguous, stark space into several distinct usable spaces. The planters form a perimeter barrier for the usable roof space and are designed specifically to hide utility vents and pipes while maintaining the integrity of the design. The planters screen the roof and add privacy from neighboring windows overlooking the space. The furniture was selected to provide a variety of seating, lounging and dining options, in harmony with the planters and overall layout.
The planters, initially designed by the building's architect, employed an innovative cutout detail pattern. BTH added panels behind the cutout to provide a contrasting color, highlighting the design, and closing off the planter boxes. BTH installed automatic irrigation throughout, ensuring the long-term health of the plantings.
The garden uses a mixture of tall Miscanthus Grass and Evergreen Hollywood Junipers for privacy as well as Hydrangeas, selected for its showy summer flowers. Creeping Jenny is underplanted throughout and trails down the sides of the planters to give an additional texture and layer of green in the garden.
The effortless, casual feel of this private rooftop garden is anything but easy- Careful planning is the linchpin behind every successful garden story.