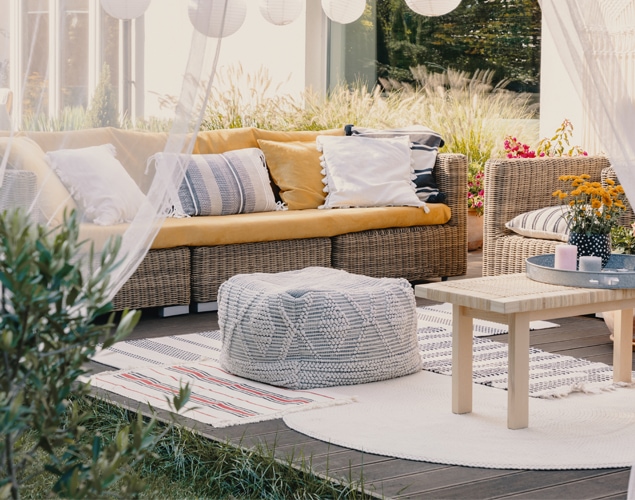 When considering your garden, BTH totally encourages the top priority to be your own personal needs and aspirations. Our designers will talk you through a design process that ensures your landscape is a reflection of what you are specifically looking to get from it and how you plan to use and interact with it. And while "custom landscape plan" is our middle name, it is also inspiring to peruse and consider design ideas far and wide, to help determine what you are and what you're not looking for. To get the juices flowing, here's a list of garden design trends for 2022:
Tropical Foliage
Travel restrictions may be keeping us in-place, but our gardens can help to transport us to a lush oasis and give a new verdant meaning to staycation. Trying leafy plants such as canna lily, caladiums or jasmine can help create a vibrant retreat without leaving home.
Garden Rooms
We've all been blurring the line between indoors and out in our designs for many years. This year we will see a continued shift into creating actually outdoor rooms. Whether carrying over the feeling of a living room, kitchen or even office, setting up an established space in your landscape adds function and square footage to your living space. Extend your living space with ideas such as screening areas with planters, hedgerows or trellis to create an enclosed area or playing with lighting elements such as string lights, uplighting and lanterns to create a warm atmosphere. And don't forget the comfy seating!
Designing for a Changing Climate
By knowing the conditions of the landscape and the weather trends in the region, we can design landscapes wise to the site's conditions. Causing less strain on the local resources while thriving within environmental restrictions, well designed gardens can be intentionally beautiful. By incorporating key elements of sustainable gardening, such as selecting drought tolerant plants, improving water runoff patterns, designing with permeable features such as gravel pathways and planting for erosion control, a landscape can be both responsible and beautiful.
Year-Round Interest
A benefit to increased time at home is noticing the nuances to what once may have seen ordinary and unchanging. When we pay close attention we can see that gardens are in a constant process of transformation. Designing gardens with this in mind we can accentuate the shifting of the seasons and provide visual interest to what once may have been thought of as dormant seasons. Keeping a garden journal where you can record seasonal timing can bring you into closer relationship with your landscape. Try planning structural trees, shrubs and specimen plants or add larger stones or sculpture into the landscape. A water feature or bird bath may help call nature into view and adopting new gardening practices, such as leaving spent flowers, grasses and sees heads in the autumn will add texture throughout the winter season.