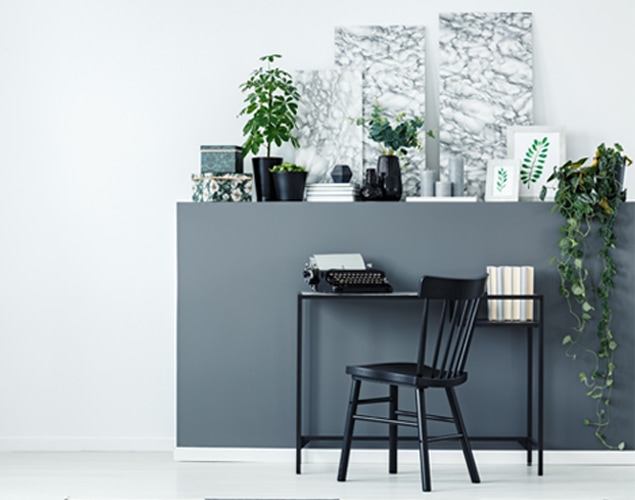 An update on the age old question: Live vs. Faux?
How can we improve upon nature? Live plants, more in vogue than ever, pair perfectly with seemingly any space- yet contemporary faux plants have come a very long way in recent times, and along with traditional silk flowers and plants, there are also options for preserved, dried, fabricated, even metal botanicals if you're looking for something implied and more sculptural. Whether your space should feature live foliage or "fauxliage" comes down to your own personal needs and lifestyle. And don't be surprised if the ideal solution is a combination of the two.
These pointers will help you to choose a plant suitable for your space:
Light Levels. This may seem obvious, but the lighting in your environment has an enormous impact on which plants are suitable for your space. Very low light? Faux plants may be best.
Location Access. Perhaps this plant lives in an office that is locked and not accessible the majority of the time, faux foliage may be the solution. Or what if the foliage is meant to be on the top of something and way up high? Again Faux may serve you better. Also keep in mind if it is a location with heavy foot traffic, live plants can take a beating with all of the bumping and brushing.
Health benefits? If one of the reasons you are looking to add plants to your environment is the many health benefits that plants offer, than live is the way to go. Reduced stress levels, improved air quality, a reduction in noise pollution… the list goes on. Keep in mind that many emotional and mental health benefits can come from merely looking at plants, which gives artificial plants some advantages too. However, real plants are the only ones that will filter air and improve the humidity levels in the room. Those who spend most of the day inside will appreciate fresher indoor air.
Budget. Maintaining a vase full of fresh-cut can be pricey. High-quality silk blooms can brighten the space up without the cost or hassle. If you opt for faux blooms try out a neutral color palette, like white, cream or softer pastels. Understated faux blooms tend to most resemble their live counterparts.